The Wireless Communications Alliance organizes a Global Online event this fall 2021
Wi-Fi looks to be the perfect broadband connectivity option. The spectrum is always free to use and constantly expanding. The standards have always been advancing rapidly, and interoperation between the billions of Wi-Fi devices is excellent. Yet, something fundamental is missing that hinders even wider adoption. Each Wi-Fi device is an isolated silo, where the chipset, hardware, firmware, and cloud are all proprietary and cannot be separated.
In this Global Online event, the WCA will present the revolution that OpenWiFi brings. Everyone is open to choosing the best solution to meet their needs. An OpenWiFi device is free to operate on any cloud platform. Each cloud platform can have multiple OpenWiFi devices working together, finally implementing the breakthrough that Wi-Fi needs to achieve the broadest possible adoption.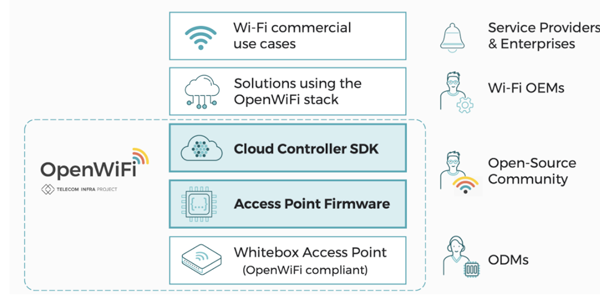 "We're excited to continue partnering with TIP as they launch the OpenWiFi platform today to make Wi-Fi deployments easier and more cost effective for service providers. Innovation around open-source disaggregated solutions is key to unlocking new ways to improve and expand global connectivity, and we look forward to seeing how OpenWiFi will advance the maturity of Wi-Fi solutions in the market,"

Dan Rabinovitsj, Vice President for Facebook Connectivity.
This event is also an update to the latest OpenWiFi event held on May 12 (see here), providing additional details to what was last presented.
TIP's Open Converged Wireless project group
OpenWiFi design, development, and validation are managed within TIP's Open Converged Wireless (OCW) project group. As in other project groups, the OCW project group enables industry collaboration to build, test, and validate products that deliver the requirements of valuable Service Providers' use cases. This is beneficial for both Service Providers and Technology Suppliers:
Service Providers save time, engineering resources, and cash when they can deploy products that have been validated against the technical requirements of their Wi-Fi use cases, that they contribute to the project group
OpenWiFi technology suppliers benefit from focus on delivering solutions to Service Providers' actual requirements, responding to commercial needs, In addition, they also get a neutral validation of their compliance with these requirements, including their adherence to TIP OpenWiFi and their ability to operate in a multi-vendor ecosystem.
OpenWiFi Timeline – What's next