---

Partner Event :Wireless Power Technologies Conference and Expo (WPTCE) San Diego
June 4, 2023
@
8:00 am
–
June 8, 2023
@
5:00 pm
PDT
The Wireless Power Technologies Conference and Expo (WPTCE) is the largest event in the world for wireless power research and industry engagement, covering a wide range of topics, applications, frequencies, and power levels. The event, formally known as Wireless Power Week, combines wireless power school, workshops, conference technical and panel sessions, and a student design competition. With five days of programming, two days of exhibition and over 400 attendees, WPTCE is the premier global event for the wireless power industry.
WPTCE 2023 is the first year with the new name brand and expanded industry expo. 
WPTCE 2023 is held from June 4th-8th, 2023, in San Diego, California, United States.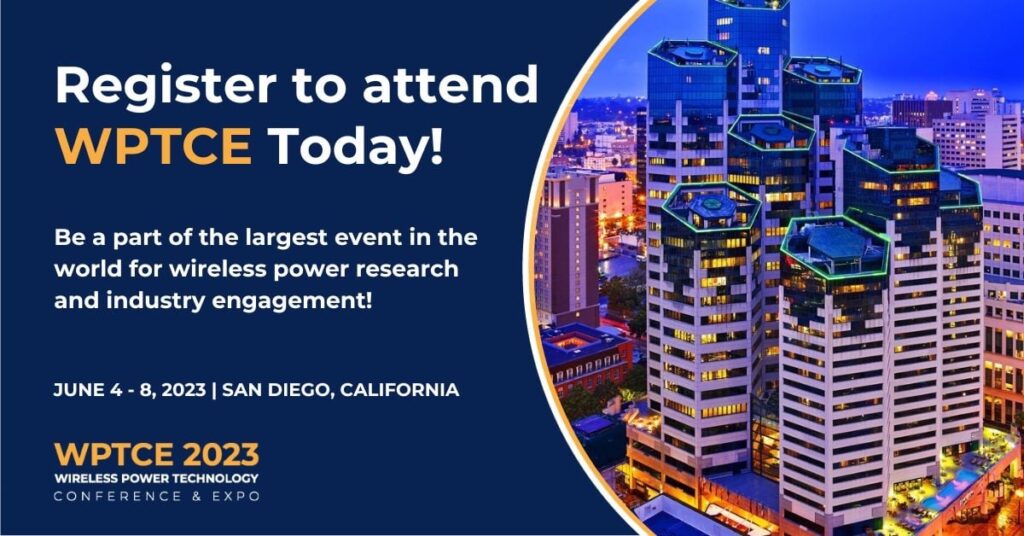 The SME presents the latest update on the 'Wireless Power Technology'. 

Don't miss out on WAWT's subject matter expert, Dinesh Kithany's presentation updating on the wireless power technology landscape, size of market opportunity, trends, and insights.
Tuesday, June 6th, 2023, between 4.00 pm-5.30 pm.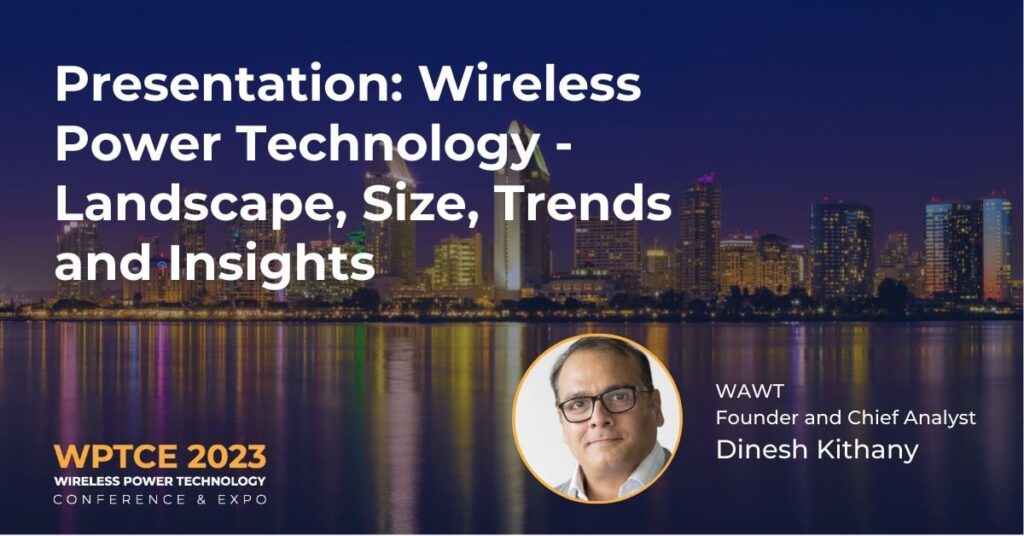 SME moderates a panel on Distance Wireless Power
WAWT's though-leadership series-led panel moderated by our subject matter expert, Dinesh Kithany on the emerging and fast evolving long distance wireless power technology. The power-packed panel includes industry veterans from EMROD, Energous, Panasonic System Networks R&D Ltd., Reach, Wi-Charge, WiGL as well as veteran professor representing IEEE MTTS body.
This panel is part of our plenary session, held on Tuesday, June 6th, 2023, 11am-12 noon.
During this hour, each panelist (as well as Dinesh) will make a 5 minute brief presentation on their respective technologies and answer questions from chief industry analyst Dinesh Kithany, followed by interactive Q&A session with a great like-minded audience.