---

Sensors Converge Event 2023
June 20, 2023
@
8:00 am
–
June 22, 2023
@
4:00 pm
PDT

---
Tuesday, June 20 • 9:00am – 12:00pm
Half Day Pre-Con Workshop:
"The Smarts Behind Smart Cities & Smart Farms using Sensors in IoT"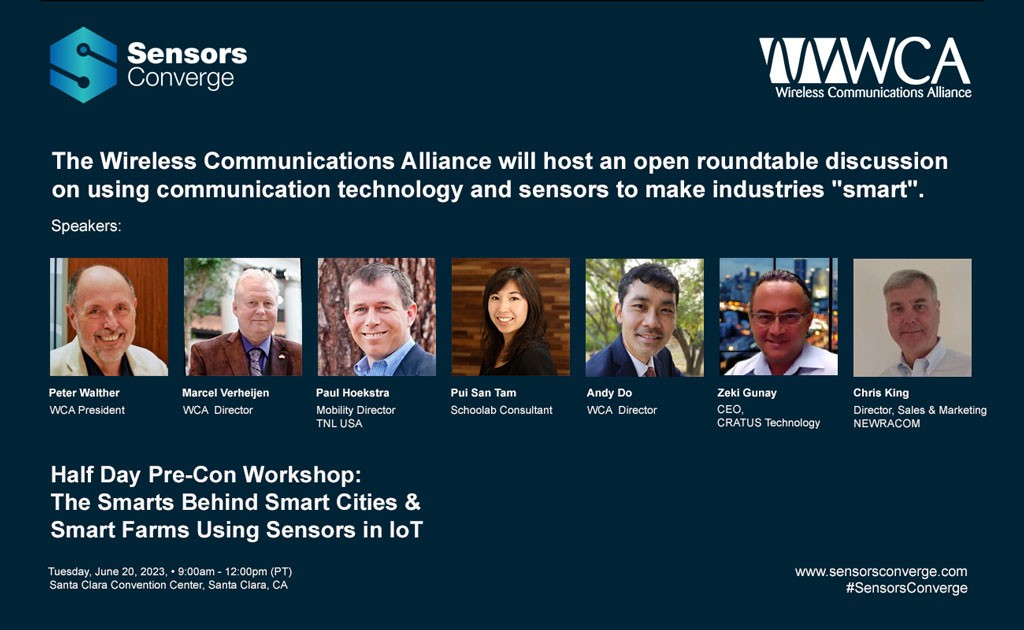 The Speakers
Bio Peter Walther
Bio Marcel Verheijen
Bio Paul Hoekstra
Bio Pui San Tam
Bio Andy Do
Bio Zeki Gunay
Bio Chris King
Smart cities are urban areas that utilize modern technology to improve the quality of life for their citizens. This can include features like intelligent transportation systems, efficient waste management, and advanced communication networks. With the integration of smart technologies, cities can become more sustainable, livable, and resilient.
Smart farms, on the other hand, use cutting-edge technologies to optimize agricultural production, increase yields, and reduce waste. This can include precision farming techniques, such as using sensors and drones to monitor crops, as well as utilizing data analytics to make informed decisions about planting and harvesting.
Both smart cities and smart farms hold the potential to improve our lives, create a more sustainable future, and help address some of the most pressing challenges we face today, such as climate change and food insecurity.
The Wireless Communications Alliance (www.WCA.org) is organizing this workshop that will take the form of an open roundtable discussion. The workshop will be moderated and will center on the utilization of communication technologies and sensors to make both emerging and established industries "smart." The event will also highlight some common sensor applications from the Connected-Everything market segments
Agenda:
9:00 AM
Welcome & Introduction by the Moderator

---
9:10 AM
Smart Cities
Smart cities are an emerging concept that aims to use technology and data to enhance the quality of life for citizens while promoting sustainability and economic growth. By integrating various systems and infrastructure, such as transportation, energy, and communication, smart cities can improve efficiency, reduce costs, and mitigate environmental impact. However, there are also concerns about privacy, security, and social equity. In this discussion, we will explore the benefits and challenges of smart cities, their impact on urban development, and their potential to transform the way we live and work.
9:35 AM
Smart Farming
Smart farming, also known as precision agriculture, is an innovative approach to agriculture that leverages technology to improve efficiency and productivity. By using sensors, drones, and other smart devices, farmers can monitor and manage their crops and livestock in real-time, optimizing resources such as water, fertilizer, and pesticides. Smart farming also enables better decision-making by providing valuable insights into soil health, weather patterns, and crop growth. In this talk, we will explore the latest trends and technologies in smart farming, their benefits and challenges, and their potential to revolutionize the agriculture industry and address some of the world's most pressing challenges, such as food security and climate change.
10:00 AM
Smart Buildings and Factories
Smart buildings and factory automation are transforming the way we design, construct, and operate our built environment. With the advancements in technology, buildings can now be designed to be more energy-efficient, safer, and comfortable for occupants. Smart buildings also enable better management and optimization of resources such as electricity, water, and heating. Similarly, factory automation is revolutionizing the manufacturing industry, making it more efficient, flexible, and sustainable. In this talk, we will explore the latest trends and technologies in smart buildings and factory automation, their benefits and challenges, and their potential to create a more sustainable and connected world.
10:25 AM
Networking Break and Sensor Demos
---
10:40 AM
Edge Computing
In this session about the use of Edge computing in the sensor market, the panel will address the benefits and challenges of this technology combination. Edge computing involves processing data at the edge of the sensor network, closer to where the data is generated, instead of sending it to a centralized cloud. We will discuss how Edge computing can reduce latency and bandwidth requirements, improve data security, and provide real-time analytics. However, we will also highlight the challenges of implementing Edge computing in the sensor market, such as the need for edge hardware and software, and the complexity of managing distributed computing resources. Overall, this section will provide valuable insights into the potential of Edge computing to transform the sensor market
11:10 AM
HaLow in Sensor Networks
HaLow, also known as 802.11ah, is a wireless communication protocol designed specifically for the Internet of Things (IoT) devices. It operates on the sub-1 GHz frequency band, providing extended range and improved penetration through walls and obstacles. With its low power consumption and ability to support a massive number of devices, HaLow is revolutionizing the concept of "smart everything." From smart homes to smart cities, HaLow enables seamless connectivity and communication between devices, making our lives more convenient and efficient. It allows for the integration of sensors, actuators, and intelligent systems into various aspects of our daily lives, paving the way for a truly interconnected and intelligent world.
11:30 AM Closing Remarks, Q&A, Sensor Demos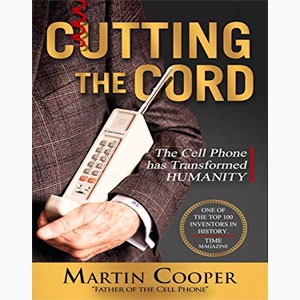 11:55 AM Give-away a copy of Marty Cooper's books "Cutting the Cord".
Thank-you & Acknowledgements from the WCA President
---
Leaders' Roundtable – State of the Industry:
The New Era of Sensors
Wednesday, June 21 • 8:30am – 9:15am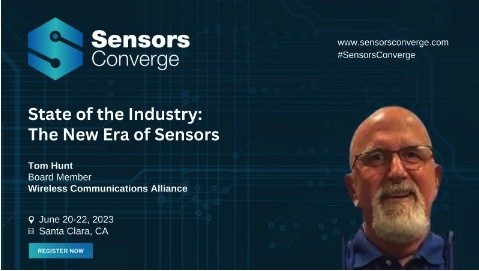 Speakers
Bio Tom Hunt
Aditya Dayal Head of AI and Data Science, Lendlease
Peter Hartwell, PhD Chief Technology Officer, InvenSense, a TDK Group Company
Preet Sibia SVP, Power and Sensor Systems, Infineon Technologies Americas Corp
Simone Mora, PhD Research Scientist, Senseable City Laboratory, MI
---
Tuesday, June 21 • 10:00 am – 6:00 pm
Wednesday, June 22 • 10:00 am – 4:00 pm
The WCA will be present at the Sensors Converge 2023 exhibition. Come and visit our booth #604 the WCA Pavilion to discover the future where the building blocks of IoT converge: Please see at the pavilion for presentations of the following companies : Voler Systems. atSign, Sensitel CRATUS and The Amplify Platform
Come and Visit the WCA Pavilion at Booth 604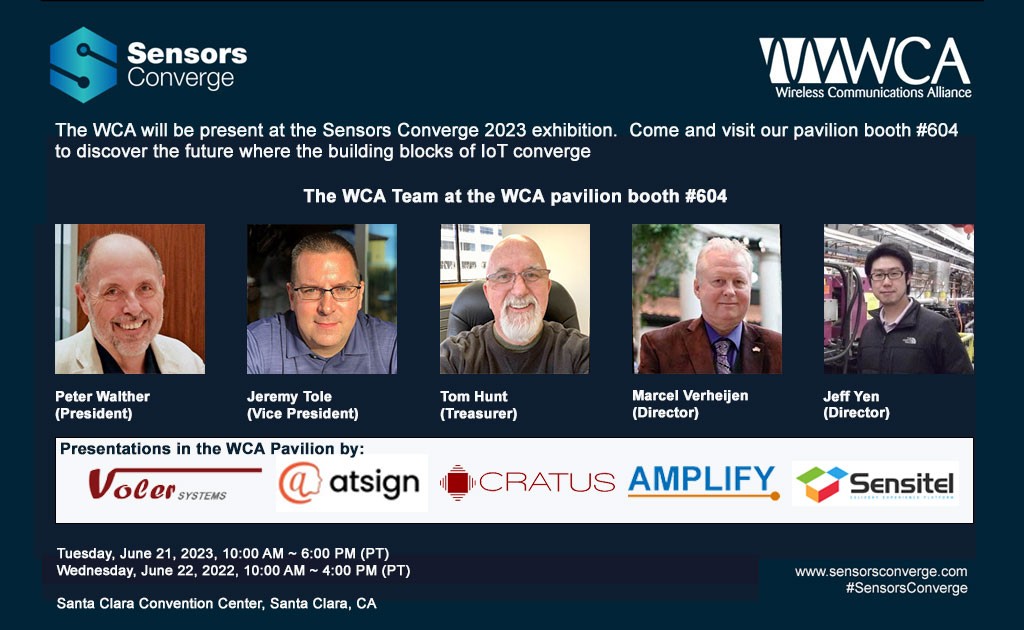 The WCA Team
Bio Peter Walter
Bio Jeremy Tole
Bio Tom Hunt
Bio Marcel verheijen
Bio Jeff Yen
June 21; 2022 : 10:00 AM ~ 6:00 PM Exhibition
June 22; 2022 : 10:00 AM ~ 4:00 PM Exhibition
We will meet with key companies exhibiting at the event, and learn about products, and solutions in the marketplace. Our team will bring you the latest news from this event in a follow-up recap virtual event June 27, 12:00 PM – 1:30 PM PT
---