---

12th annual IIoT Gizmos & Gadgets 2023 (including a recap of the Sensor Converge 2023 Conference) 
October 19, 2023
@
12:00 pm
–
1:30 pm
PDT
Witness the latest cutting-edge
Industrial Internet of Things (IIoT) devices and innovations
Event video
---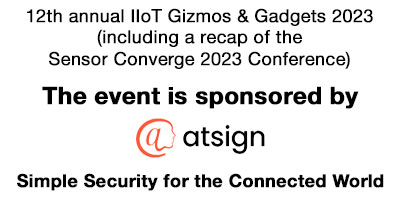 Currently, the Industrial Internet of Things (IIoT) is experiencing a remarkable uptick in innovative devices. These devices are revolutionizing industrial operations. Specifically, edge computing devices with robust processors and AI capabilities allow for real-time data analysis and decision-making. As a result, they significantly cut latency and boost operational efficiency.
Additionally, smart sensors and actuators are changing the game in asset monitoring and predictive maintenance. These advances optimize production processes and cut downtime. Likewise, wearable technologies like augmented reality glasses and smart helmets enhance worker safety and productivity. They provide hands-free access to essential information and remote expert advice.
Moreover, autonomous drones and robots are simplifying logistics and inspection tasks. On the other hand, blockchain solutions secure and transparently manage data in IIoT networks.
So, get ready to explore the science of crafting an IIoT device. Gain unique insights into developing these groundbreaking gadgets and connect with the experts shaping technology's future!
Event Introductions and Acknowledgements: Moderator Introduction
Roundtable Discussion with Presentations guided by the moderator
Q&A
Thanks and closure
Moderator and Speakers
Agenda
Welcome & Introduction (Peter Walther, President WCA – Moderator)

Networking 2.0 – Second Layer of Security (Colin Constable – Co-Founder & CTO, atSign)
Networking 2.0 unifies various networks, enabling one address for both inbound and outbound digital communication. This system allows seamless integration across diverse network types. Unique features of Networking 2.0 software and solutions include universal addressability, built-in privacy and security, and contextual responses. Additionally, they offer trust attestations, high velocity, and eliminate traditional networking configurations. These solutions separate networking from application engineering, enhance daily routine by eliminating spam, and provide a control plane for event-driven communication. These features are elaborated on in "Networking 2.0 Emergent Characteristics."

Edge Computing (Joe Madden – Founder & President of Mobile-Experts) In this session about the use of Edge computing in the sensor market the panel will address the benefits and challenges of this technological combination. Edge computing involves processing data at the edge of the sensor network, closer to where the data is generated, instead of sending it to a centralized cloud. We will discuss how Edge computing can reduce latency and bandwidth requirements, improve data security, and provide real-time analytics. However, we will also highlight the challenges of implementing Edge computing in the sensor market, such as the need for edge hardware and software and the complexity of managing distributed computing resources. Overall, this section will provide valuable insights into the potential of Edge computing to transform the sensor market.

Wearables (Walt Maclay – Voler Systems) Wearables for the Industrial Internet of Things (IIoT) are transforming the way workers and industries operate. These specialized devices, such as smart helmets, wristbands, and glasses, are equipped with sensors and communication capabilities to collect real-time data, monitor conditions, and enhance worker safety and productivity. They enable workers to access critical information, receive alerts, and communicate hands-free, improving efficiency on factory floors and construction sites. IIoT wearables are used in maintenance, providing hands-free information instead of having to read paper documentation. Overall, these wearables are instrumental in optimizing industrial processes, reducing downtime, and ensuring the well-being of workers in the ever-evolving landscape of the Industrial Internet of Things.

HaLow in Sensor Networks (Chris King – Director, Sales & Marketing, NEWRACOM) HaLow, also known as 802.11ah, is a wireless communication protocol designed specifically for the Internet of Things (IoT) devices. It operates on the sub-1 GHz frequency band, providing extended range and improved penetration through walls and obstacles. With its low power consumption and ability to support a massive number of devices, HaLow is revolutionizing the concept of "smart everything." From smart homes to smart cities, HaLow enables seamless connectivity and communication between devices, making our lives more convenient and efficient. It allows for the integration of sensors, actuators, and intelligent systems into various aspects of our daily lives, paving the way for a truly interconnected and intelligent world.

Wireless Power for Sensor Networks (Jeff Yen – Co-Founder & CEO, Etherdyne Technologies, Inc.) Wireless power transfer in sensor networks is a transformative technology that revolutionizes how sensors are powered and deployed. It enables the wireless transmission of energy to sensors, eliminating the need for traditional wired connections and batteries. This innovation offers numerous advantages, including increased flexibility in sensor placement, reduced maintenance costs, and extended sensor lifetimes. Inductive coupling and resonant magnetic fields are commonly used methods for wireless power transfer in these networks. By harnessing this technology, sensor networks can be deployed in remote or hard-to-reach locations, making them invaluable in applications ranging from environmental monitoring to industrial automation. This breakthrough promises to enhance the efficiency and reliability of sensor networks across various domains.

Roundtable Discussion about a Recap of the Sensor Converge Conference 2023 and AI in Sensor Networks

Q&A, Closing Remarks, Thank-Yous, & Acknowledgements (Peter Walther, President, WCA, Moderator)