The solution can help reduce the Total Cost of Ownership by more than 30%
The award-winning* Cinterion® IoT Suite Connectivity Activation by Thales considerably simplifies and digitalizes cellular connectivity and the everyday operations of industrial IoT device manufacturers and service providers. Based on standard eSIM technology, the new solution eliminates the need for IoT service providers to set up and run complex eSIM Remote Subscription Provisioning (RSP) platforms. It uses a single IoT eSIM that works with whichever mobile operator is selected by the device maker or IoT service provider. The solution also enables resilient device connectivity and lifecycle management over the multi-year life spans of industrial solutions, reducing the Total Cost of Ownership for customers.
Seventy-five billion IoT devices will be connected by 2025, with a potential market value of around $1.6 trillion. This market value brings unprecedented business possibilities and challenges, such as streamlining supply chain logistics for intelligent devices.
"One of the biggest eSIM opportunities goes beyond network connectivity. The ability for eSIMs to download and store multiple profiles also applies for application credentials."
The solution simplifies manufacturing processes and logistics, and Device manufacturers no longer need to produce multiple product variants for deployment with different Mobile Network Operators (MNOs) in other countries. One product now fits all MNO networks since the IoT eSIM is embedded in the industrial device and can connect to any MNO network worldwide.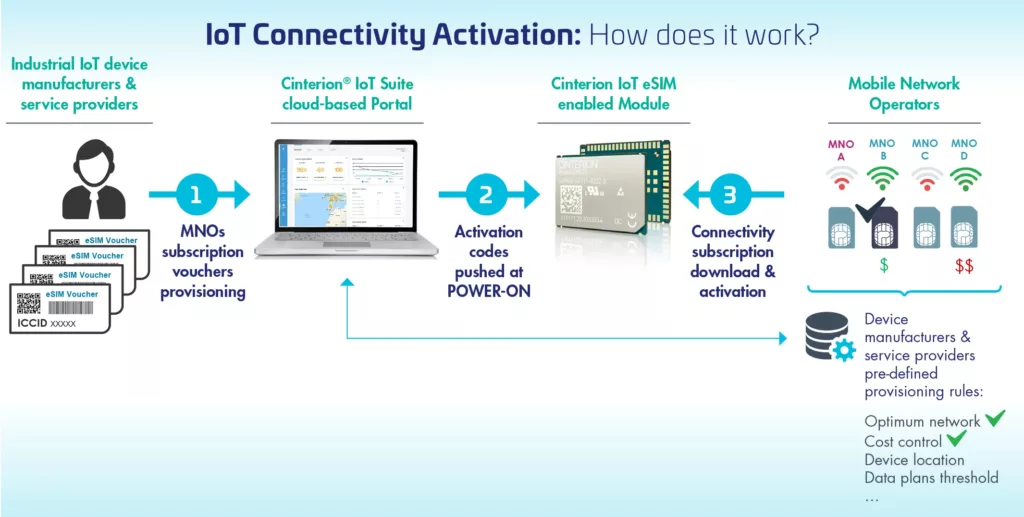 Thales system cuts device installation time. Thanks to a remote activation process, the IoT eSIM automatically downloads the MNO profile that best suits the device location and connects to the network according to the service providers' pre-defined business rules.
Now networks and IoT applications evolve. The Thales solution ensures reliable connectivity by automatically switching to backup connectivity providers and removing the need for physical device updates.
"Thales leverages its unique expertise of cellular network infrastructure and collaboration with more than 400 mobile operators to simplify industrial IoT connectivity.The Thales Connectivity solution offers all the benefits of digitalization and eSIM technology for the industrial IoT sector. With more than 25 years of constant innovation in IoT connectivity solutions, Thales enables the best total-cost-of-ownership and performance to its customers."

Frederic Deman, SVP of Analytics and IoT Solutions Business Line, at Thales.
To learn more, join Thales virtual launch events on June 16 at 9:00 AM or 5:00 PM CEST.