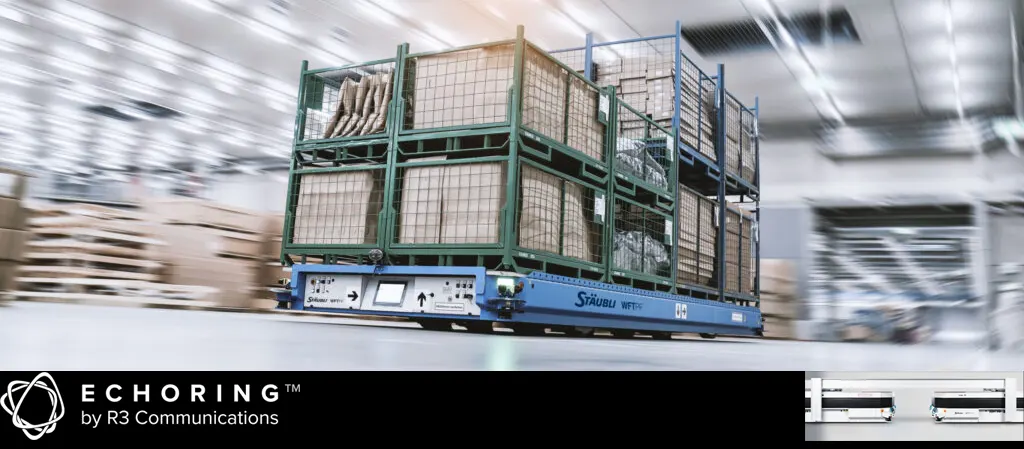 EchoRing multiplies the performance potential of automated guided vehicles (AGVs) and ensures secure, real-time wireless controls even in complex industrial environments. It is simple to deploy, reliable, and scalable. The benefits of EchoRing have been demonstrated in Stäubli WFT's ongoing AGV development.
AGVs of various sizes and types are increasingly being used in logistics and manufacturing applications. Using a wireless network to communicate efficiently performs tasks ranging from transporting production jobs between assembly stations to retrieving steel plates from a warehouse for a car body shop. Current industry-standard solutions, such as CAN Bluetooth and Industrial WLAN, fall short of the performance requirements for fleets of networked AGVs. An AGV carrying 100 tons of material must be counted on to come to a complete stop at any time – even the slightest delay can spell disaster.
Stäubli WFT GmbH Headquartered in Sulzbach-Rosenberg is one of Europe's leading AGV manufacturers. Stäubli WFT also develops software to deploy and operate Industry 4.0 environments and integrate AGVs into existing warehouse management systems.
"Integrating a wireless AGV fleet into a highly networked production system often requires extensive setup, Radio transmissions within an AGV control system must function just as reliably as an industrial cable."

Cajetan Kredler, Team Leader of New Technologies at Stäubli WFT GmbH
At a trade show in early 2020, Stäubli WFT discovered R3's EchoRing protocol. Stäubli WFT saw its potential as an AGV network solution: "With its 5.8 GHz frequency band, EchoRing employs a range outside of standard transmission paths and is not affected by existing network participants," says Kredler. "Its underlying token ring technology also ensures lossless and real-time data transmission, which meets our reliability requirements." Kredler cites the EchoRing Ethernet Bridge module's quick and easy integration with standard AGV interfaces as additional benefits, as well as EchoRing's sufficient data rate for long-term operations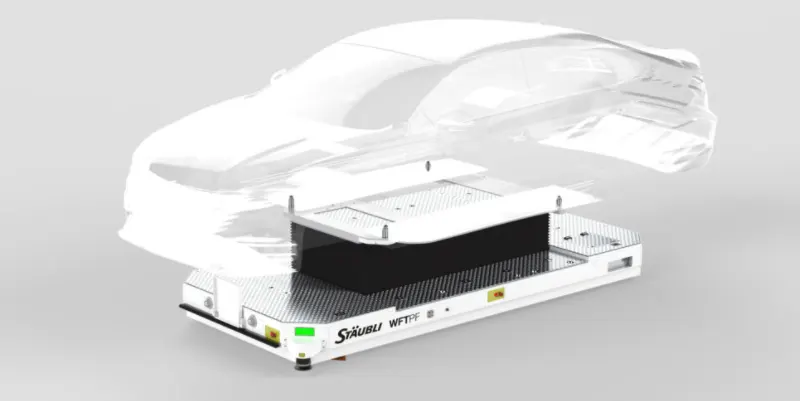 About R3
R3 – Reliable Realtime Radio is a Berlin-based company that creates high-performance wireless industrial solutions. The EchoRing protocol from R3 combines the dependability of a cable connection with the flexibility of a wireless network, ensuring latencies of less than five milliseconds. The protocol is intended for a wide range of industrial machine-to-machine applications, from basic safety protocols to critical safety protocols such as emergency stops. Industry leaders such as Airbus, BMW, and Kuka are among EchoRing's growing list of customers.
About Stäubli
Stäubli Group is a global provider of mechatronic solutions in connectors, robotics, and textiles. Headquartered in Pfäffikon, Switzerland, the company has offices in 50 countries across four continents. For over 20 years, its German subsidiary Stäubli WFT GmbH has developed and manufactured automated guided vehicle (AGV) solutions for industrial applications.