The Motorola Defy Satellite Link serves as the perfect tool for maintaining constant connectivity, especially in urgent circumstances or regions with poor signal strength.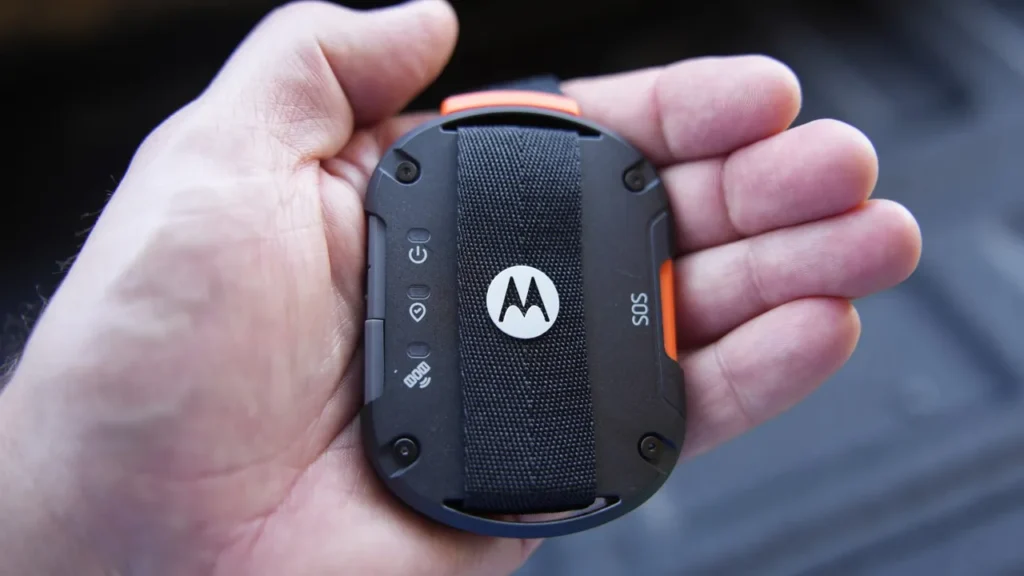 Over the years, there has been a significant improvement in cellular coverage, making it easier to stay connected in most areas. However, if you often find yourself venturing into the great outdoors, you are likely to encounter regions where the cellular network is either limited or non-existent. This lack of coverage can become a concern, especially in critical situations where communication is essential.
Imagine you are exploring a remote area, and unfortunately, you face an unexpected injury, delay, or isolation. During such challenging circumstances, the need to communicate with your family, acquaintances, or emergency personnel becomes crucial. This is where the new Motorola Defy Satellite Link comes into play. The Motorola Defy Satellite Link functions as a reliable satellite hub, bridging the gap between your connected iPhone or Android smartphone and the outside world. Acting as an intermediary, it enables you to relay important messages or send SOS signals to others in those remote regions where traditional cellular networks fall short.
Budget-friendly option
While the device does not allow you to send messages directly from it, it serves as a cost-effective alternative to standalone satellite messaging devices. These standalone devices can be quite expensive, and the Motorola Defy Satellite Link provides a more budget-friendly option without compromising on its functionality. Furthermore, Motorola's satellite subscription plans are thoughtfully priced, making it easy to justify the investment, especially if you frequently spend time exploring or residing in remote areas of the United States or Europe. By subscribing to Motorola's satellite service, you gain the added advantage of reliable communication access, enhancing your safety and peace of mind during your outdoor adventures.

With its satellite hub capabilities and SOS functionality, this device ensures that you stay connected and have a means of communication when you need it the most, all at an affordable cost compared to standalone satellite messaging devices.
How does it function?
Download the Bullitt Satellite Messenger app to use Motorola Defy with iPhone or Android smartphone. Follow the instructions to connect Defy via Bluetooth, and you're ready to go. Once paired, use the Bulitt app to send messages with emoticons, a 140-character limit. App displays remaining characters as you type.
If you wish to receive a delivery confirmation, bear in mind that it will consume one of your monthly messages. When you send individuals messages, they will be prompted to download the Bullit app so they can communicate with you. While the recipient will receive your message in their default text messaging application, only replies sent through the Bullitt Satellite Messenger application will reach you.
Motorola Defy enables check-ins with pre-selected messages (e.g., "I'm here") and precise locations (latitude/longitude). Set up one contact for check-in, press and hold the center-left button when the phone is unavailable. Motorola Defy hardware is durable with IP68 dust/water resistance, exceeding MIL-STD-810H drop testing. It has a D-ring for gear attachment.Motorola Defy hardware is durable with IP68 dust/water resistance, exceeding MIL-STD-810H drop testing. It has a D-ring for gear attachment.
SOS button to swiftly and easily contact emergency services
On one side, there is a large orange SOS button to swiftly and easily contact emergency services. I would prefer to see this device placed under a cover or in another location where it is more difficult to activate. Garmin's inReach devices have a design that prevents accidental activation, but I appreciate the need for quick access in the event that you are in peril and have limited means to initiate an emergency call. Once activated, FocusPoint International team members will be notified and will begin providing response services.
Soon-to-be-available tracking capability is of particular interest to me for trail running and trekking. This new feature will enable pin placements at predetermined intervals on a virtual map so that your family can monitor your location. Sessions may vary between 24 and 48 hours.
Testing the Motorola Defy Satellite Link it is reliably while being off the grid. It is easy to attach to a backpack, to carry during hiking, fly fishing, or trail jogging. It would be even more helpful if the device had an accelerometer to detect extreme changes in position, such as falling into a river and transmitting a message to a friend or family member to confirm their safety.
What is it priced at?
Motorola offers the reasonably priced Motorola Defy at $149, with its satellite subscription plans being necessary for travelers heading to cellular service-lacking areas. It measures 82 x 62 x 11.2mm, weighs a mere 70 grams, ensuring easy portability. All U.S. consumers purchasing the Motorola Defy by September 30 will receive complimentary premium service.
Currently, the United States and most of Europe enjoy coverage, with plans to expand it. It's worth noting that other devices like the Garmin inReach provide broader coverage. Although the Defy doesn't serve navigation or weather forecasts, it is significantly more affordable than advanced satellite messenger and navigation devices. Nonetheless, it performs well for two-way text communications. The affordability and assurance of finding help when needed make it an excellent addition to your car or RV emergency kit. If you frequently spend time outdoors without cellular connectivity, the Motorola Defy's hardware and subscription price make it a perfect choice.
Source: ZDNet