Charter Communications, Wireless Internet Service Providers Association (WISPA), urges the Federal Communications Commission (FCC) and public interest groups to reject proposals to increase power limitations in the shared CBRS band. The proposed increase in power will favor macro cell developments solely and risk existing deployments.
The Open Technology Institute, Public Knowledge, the Consortium for School Networking, and the Schools, Health, and Libraries (SHLB) Coalition are among the other signatories to the July 1 letter expressing strong opposition to changes in the band. The Citizens Broadband Radio Service (CBRS) band at 3.5 GHz has a unique sharing paradigm that includes incumbent federal operations, priority access licenses (PALs), and general authorized access (GAA). Lower power limits were designed into the band and a smaller county-sized licensing scheme for PALs.
Dish Network supplied technical analysis earlier this year in requesting a new Public Notice seeking input on raising the maximum authorized power limits for CBRS, claiming that current rules limit the viability of macrocell 5G deployments in the band. Notably, Dish spent nearly $1 billion to secure CBRS PALs and is currently developing its own 5G network. (https://wca.org/dish-and-aws-form-strategic-collaboration-to-reinvent-5g-connectivity-and-innovation/) CBRS is positioned between the recently auctioned C-band (3.7-3.98 GHz) and the 3.45-3.55 GHz band, which will be auctioned later this year and has higher power limits. CBRS PAL holders, according to Dish, are at a competitive disadvantage because they are not aligned with adjacent bands. According to Dish, higher power and a new device class would not harm incumbents, GAA users, or fair and dynamic spectrum use.
Others, such as the Competitive Carriers Association (CCA), have proposed new device categories that can operate at higher power levels, and AT&T was an early supporter of higher power levels for CBRSDs. The coalition, on the other hand, holds a different viewpoint. It expressed concerns that a change would jeopardize existing deployments, cause interference for both PAL and GAA users, impact fixed wireless service, and potentially endanger incumbent users such as the DoD. The FCC auction for CBRS PALs had 228 winning licensees, including a mix of entities with nearly 70 smaller wireless internet service providers (WISPs) securing spectrum – which many considered a success for what is sometimes referred to as "the innovation band." Charter was the third-highest bidder at the CBRS auction, with a $464 million bid, while WISPA members spent $100.04 million.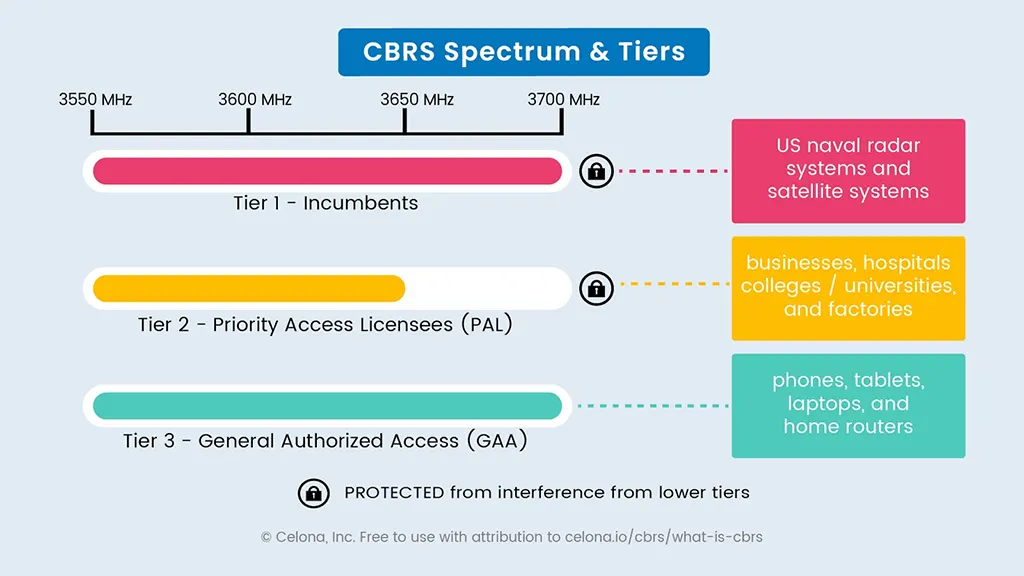 According to the coalition, "fundamentally alter the character of CBRS" and undercut the purpose of having a flexible band for a range of use cases. Existing CBRS deployments for rural broadband, IoT deployments in factories, and private networks connecting schools and libraries were noted in the report. The coalition also warned of increased interference to PAL operations and reduced spectrum utilization as GAA use is jeopardized. According to the alliance, "such a result would disrupt the diverse and innovative service currently being deployed and inhibit future competition throughout the band."
They pointed out that the FCC had already considered and rejected proposals for higher power limits. And, because existing power levels are best suited for small cells, CBRS users have already designed networks with a mix of PAL and GAA use in mind. The group cited extensive deployments in the band (nearly 150,000 CBRS Devices deployed and more than 130 CBSD models and 200 consumer devices). It warned that changing CBRS rules could undermine those due to increased interference from macrocells.
"To overcome an increase in interference from nearby higher power base stations," the coalition wrote, "these small cell networks would have to increase their own transmit power levels. They cannot do this because they are limited to their currently deployed small cell limits." Because the Spectrum Access System (SAS) administrator is only required to protect against interference when CBRS devices operate on the same frequency, interference from devices on nearby but not overlapping frequencies would also reduce small cell networks' coverage and service throughput for PALs.According to the coalition, it would be an issue for GAA users because higher power would mean that both GAA and PAL CBRS devices cover larger areas, resulting in more overlap between the two. To reduce interference, the SAS would need to shift GAA operations to different channels and provide a larger projection area for the higher-performing PALs.
According to the group, "these allowances owing to the greater power levels would essentially allow macrocells to 'claim' additional spectrum coverage," giving higher power networks an advantage over small cells. "Moreover, as surrounding PAL operators boost their own broadcast power levels to avoid interference, the decreasing of available spectrum for GAA operations will cascade."Fixed wireless networks in rural areas may be harmed because providers will be unable to take advantage of higher power levels, in part. After all, the existing user equipment does not support it, according to the coalition.
In FCC filings, T-Mobile had previously expressed opposition to higher CBRS power levels, specifically Dish's proposal. The carrier stated in a March ex parte that "the innovative nature of the CBRS band is premised on low-power use of the spectrum over limited geographical areas."