WiTricity technology provides a unique solution of all sizes and power requirements.
WiTricity enables a big step forward in comfort and usability for Electric Vehicles. One of the top "wish list" items for potential (Electric Vehicles)EV and (Plugin Hybrid Electric Vehicles) PHEV consumers is being capable of driving into a garage or parking space and have your EV charge automatically, without plugging in cables. Car manufacturers worldwide are working with this technology and bringing this exciting technology to the smart city and eMobility market.
"Autonomous electric vehicles are the future of personal mobility—but with no driver, who will plug in the vehicle to recharge it? The answer is clear: No plugs, no wires. Park-and-charge wirelessly and autonomously…with WiTricity technology."
— Alex Gruzen, WiTricity CEO
The high efficiency 3.6-11 kW EV charging development system gives carmakers and charging infrastructure suppliers the most adaptable and interoperable wireless charging system design. Testing by the US Department of Energy confirmed the most efficient and most interoperable system in Wireless-Power-Transfer(WPT). The design and architecture have already been included in global regularity efforts led by the SAE International and IEC/ISO (International), DKE and Project STILLE (Germany), and CATARC (China).
Top global automakers, including Honda, Nissan, GM, Hyundai, are testing advanced wireless charging system prototypes for electric vehicles using WiTricity magnetic resonance technology.
Why Magnetic Resonance?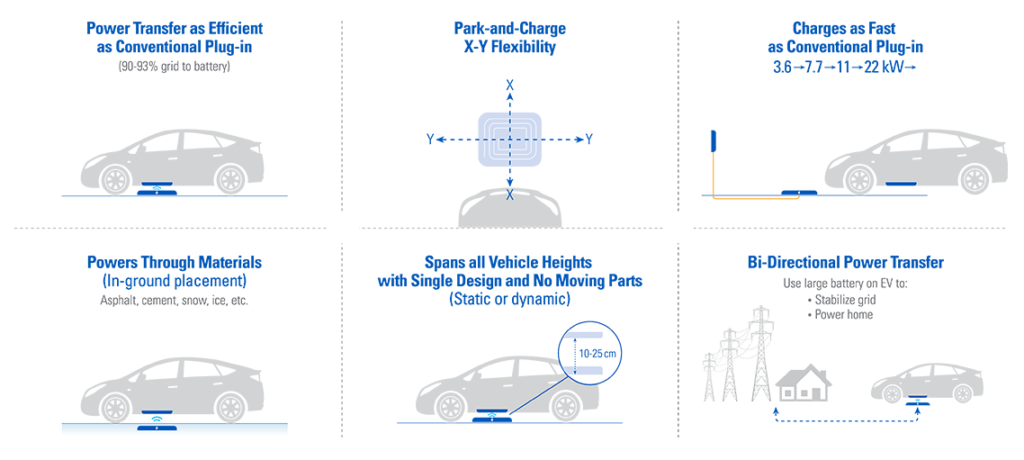 Resonant coupling occurs when the natural frequencies of the two systems – a source and a receiver — are approximately the same. The technology is based on contactless Inductive Power Transfer, two coils, a transmitter coil built into a base, and a receiver coil built into the vehicle. The base coil can be buried, flushed or surface mounted and fast charge up to 22kW. There are no cables linked to the car and no cables on the chargers. Cables and connectors are critical components, and often they fail due to mechanical wear and tear and reduce the reliability of the charging system. The WPT system can ultimately be integrated into the infrastructure and is therefore sheltered from vandalism and reduces maintenance cost.
More information:
Energy's Oak Ridge National Laboratory surges forward with 20-kilowatt wireless charging for vehicles
https://www.linkedin.com/pulse/future-electric-vehicle-charging-wireless-marcel-verheijen/