Qualcomm's Wi-Fi 7 Immersive Home Platform was revealed last week. Two new processors were created and tuned for residential mesh Wi-Fi networks. The new platforms utilize the 5GHz and 6GHz bands and enable 240MHz and 320MHz channels, increasing the spectrum that Wi-Fi 7 devices may use.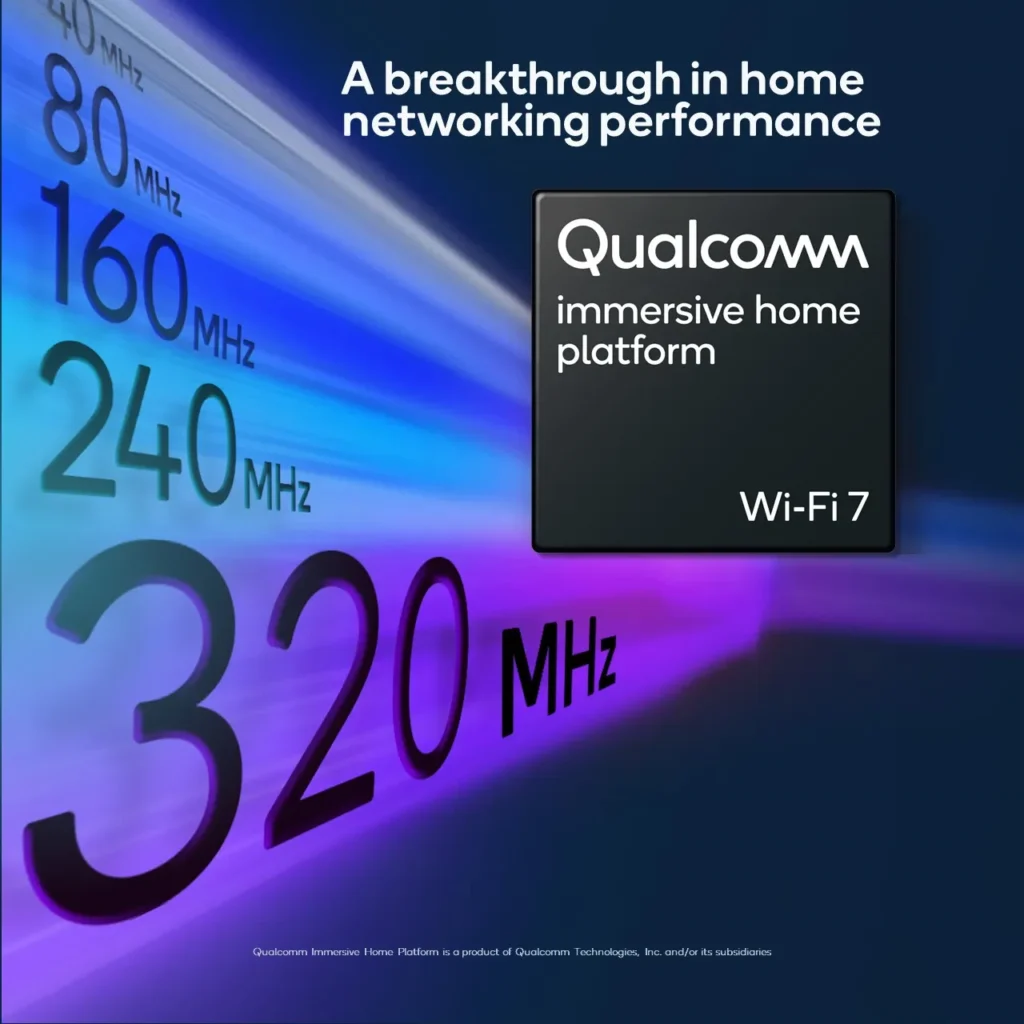 With the eventual widespread adoption of AR/VR devices, that bandwidth will be necessary to deliver a low-latency experience. Qualcomm claims that its Wi-Fi 7 platforms will have a total capacity of 20 Gbps.
As part of its Wi-Fi 7 platform, Qualcomm is also introducing a new Multi-Link Mesh feature that will benefit mesh nodes and non-Wi-Fi 7 devices, The Wi-Fi 7 devices dynamically switch between available spectrum and channels to improve communication between the nodes while also increasing throughput and bandwidth for devices as needed.
Qualcomm claims that Wi-Fi 7 can deliver speeds of up to 5.8 Gbps to a single device. To integrate Wi-Fi 7 into its systems, Qualcomm has begun working with its hardware partners and mesh Wi-Fi makers. According to Qualcomm, we anticipate seeing updated mesh systems in the second half of 2023.
Qualcomm's chips take advantage of Wi-Fi 7 capabilities like higher-capacity 320MHz channels (as opposed to 160MHz on Wi-Fi 6E). Additionally, it has Multi-Link Operation (MLO), which enables devices with the necessary capabilities to connect to two spectrums at once (for instance, 5GHz and 6GHz).
"With the new Immersive Home Platform, Qualcomm has made this both cost-effective and power-efficient, and it will bring tangible performance benefits for both new and legacy devices." says Qualcomm's SVP and GM of wireless infrastructure and networking, Nick Kucharewski,